Lasotronix company introduction:

Lasotronix has been established on 2005 as a medical diode laser devices company in Piaseczno, Poland.
Lasotronix is a manufacturer of special, unique and the most complete Laser package in the world which attracted everyone's attention by presenting numerous innovations.
Lasotronix stands on for providing quality services that exceeds the expectations of our esteemed customers.
Everywhere Smart laser make a positive contribution to people's lives, Lasotronix is there.
Lasotronix Device:
The Smart PRO laser offers three complementary wavelengths, i.e. 405 nm, 635 nm and 980 nm. Due to such a combination we are able to provide patients with a comprehensive service – from diagnostics through therapy to postsurgical care.
Specially designed optical systems allows you to make by the mean of one device – treatments from 9 different groups of procedures, such as endodontics, periodontology, microsurgery, teeth whitening, pain therapy, photoactivated disinfection of root canals (P.A.D. – 635nm), biomodulation (635nm) and diagnostics (405nm).
Equipped with a flexible, thin quartz fiber (200,320Ч) with a wide range treatment hand pieces guarantees a unique range of applications (Arc, lens14mm, prob2-8mm) combined with a very high comfort and precision of treatments. High power and adjustment option allows to achieve remarkable effectiveness of treatments.
Advantage:
• The treatments are simple and fast (written procedures for treatment),
• No bleeding after cutting,
• Treatment do not require anesthesia,
• After surgery, you do not need stitches,
• The tissues are sterile and heals faster,
• There is no tendency for gums to re-growth,
• Full root canal treatment done in one visit,
• Designed for P.A.D treatment.(destroys 99,9% pathogenic bacteria),
• Laser biomodulation provides accelerated treatment,
• The laser also allows you to perform certain aesthetic medicine treatments using three wavelengths.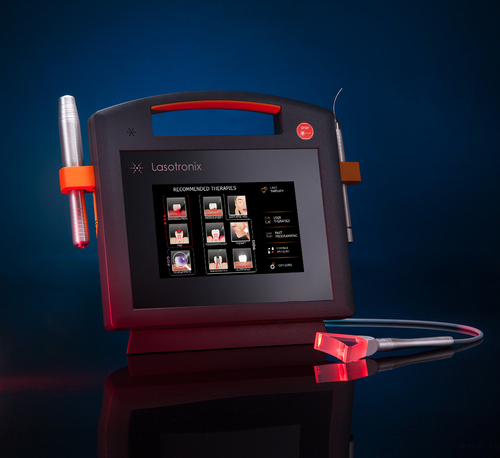 Equipment:
• 4 Separate hand pieces for all 3 wavelengths 980nm,635nm,405nm.
• 3 different type of stainless steel tip 13,20,33mm
• 2.5m dedicated 980nm wavelenght cilicon coated quartz fibers.
• Diamond cutter
• Special treatment lenses (14mm)
• Therapeutic and diagnostic types 2-8mm for specific wavelength of 405 -635nm
• Disinfection tips for Endo,Prio,Bio (635nm)
• Tolonium chloride in two forms, Liquid & gel
• Two smart keys( USB)
• Transportation Case